How to log on to your website to edit from the dashboard.
Go to the bottom (footer) of your website. You should see something similar to this but the style will be different for every website.

Choose 'Logon' to view a pop up to enter email and password. If you haven't set this up yet, you will click 'forgot password'. Enter your email address, select a password, confirm that password ensuring that all the criteria to the right, is chosen, then click the grey button to confirm. You will receive a confimation email and your new password will be set up.
Once this is done, everytime you want to edit content on your website, you will enter the dashboard in this way. From there, you can choose the dashboard button to edit or click the black 'back to website' button (see below) to visit a page on your site. If you are in any of the dashboard buttons and want to go back to the main dashboard, click the black 'dashboard' button. To learn more about the dashboard groups, visit the 'dashboard' link.

To edit content on a page (rather than something from the dashboard) click the 'edit' button that now shows on the right of any page that can be edited. The 'admin' button also returns you to the dashboard.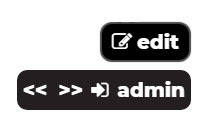 For more information on editing content on a page, visit 'how to edit a page'.