Posting Pictures Using the Icon
Important note: It is imperative you have the right to use the pictures you upload to your website. To ensure this is the case, you must select only these photograph types:
public domain images - (Learn more here about copyright and when an image enters the public domain.) 
use your own photos - arguably the legally safest route to take
use photos from Flickr or other photo-sharing sitethat allow for commercial use (taking great care to maintain the paper-trail proving it is licensed for your specific purpose)
or simply purchase photos, again, maintaining the documents proving you purchased the image... just in case.
Downloading images from Google Images or other web content without establishing ownership approval could get you in legal troubles that could run into the thousands of dollars. It is in your best interest not to try and "borrow" a pic off the net, hoping no one will notice. Copyright infringement is a real crime and the chance of being caught is very real.

So now you have a great photo you want to have on a webpage. When you get to the spot you want the image to be place in, click the photo icon 

 and the Image Properties window will popup: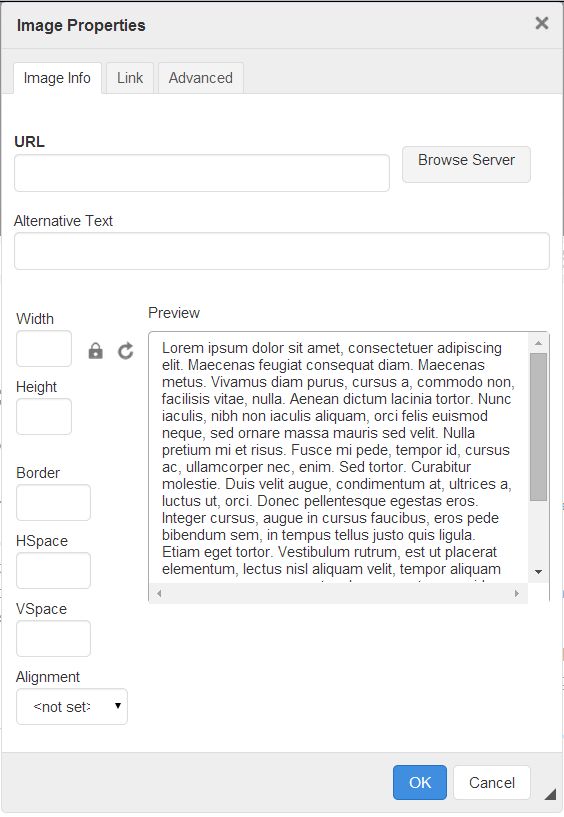 Click the "Browse Server" button. This will bring up the Browse window. You can choose an existing photo from the server or Choose a file and upload it from your computer. By clicking the "Choose File button,  you will see a list of folders in your hard drive. Find the picture you want to use and select it and press ok.
Once the file is chosen click on "send to server" to upload the photo. It will be highlighted for easy locating. DoubleClick the 

file in the left hand column. This will close the window and put the path to the image in the Image URL box.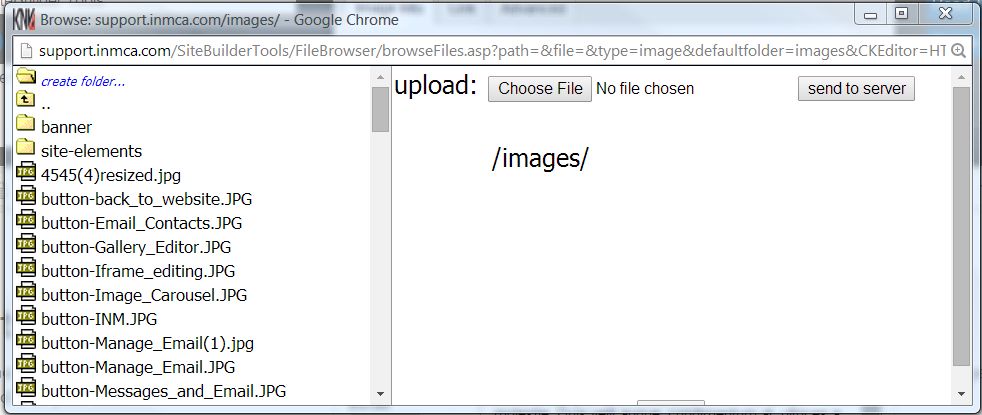 It is a good practice to fill out the "Alternative Text" field in the Image Properties window with a description of what the image is portraying. This informs the Google search spiders crawling your site what the photo is showing since Google-bots can't "see" pictures or videos. This helps enhance your SEO.

Important note: If your picture is a large one and needs either resizing or cropping, you can do it in your favourite image manipulation program such as Microsoft Paint or Adobe Photoshop. Conveniently, however, there is an image program right in the Dashboard.