FAQ Pages - Save Time For You and Your Customers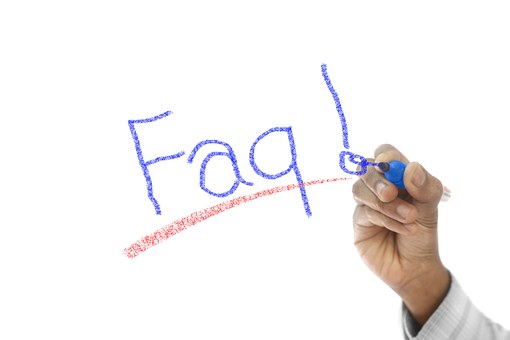 "An FAQ page is one of the most important, valuable and powerful pieces of content on your website."
- Media Heroes
With an FAQ addon, companies can post the most popular queries that come from their clients and proactively provide answers for website visitors. This saves the customer time and the company money. The best part of all is that updating the FAQ program is super simple.
To edit an existing FAQ
You must be logged in to your dashboard to edit anything on your website. If you are but on a different page, you can choose the 'admin' button to get to the dashboard. Then click on the FAQ button.

It will take you to a screen that has these options at the top.

There are 3 layout options to choose from. They will look like the examples. Make your choice for the layout and then decide whether you need to edit an existing one or create a new one.
To add a NEW FAQ: you will choose the green 'add new' button. This pop up will appear for you to enter the new information.
Simply type in the questions you believe your clients will want answered in the "Question" field with the corresponding answers entered in the "Answer" field. When you are done with the content, check the 'active' box. In most cases, that's all you need to do besides hitting 'save FAQ'. However, in some cases you may have multiple pages that have FAQ's along the bottom. If this is the case, you can choose which page on your website you want that FAQ to appear.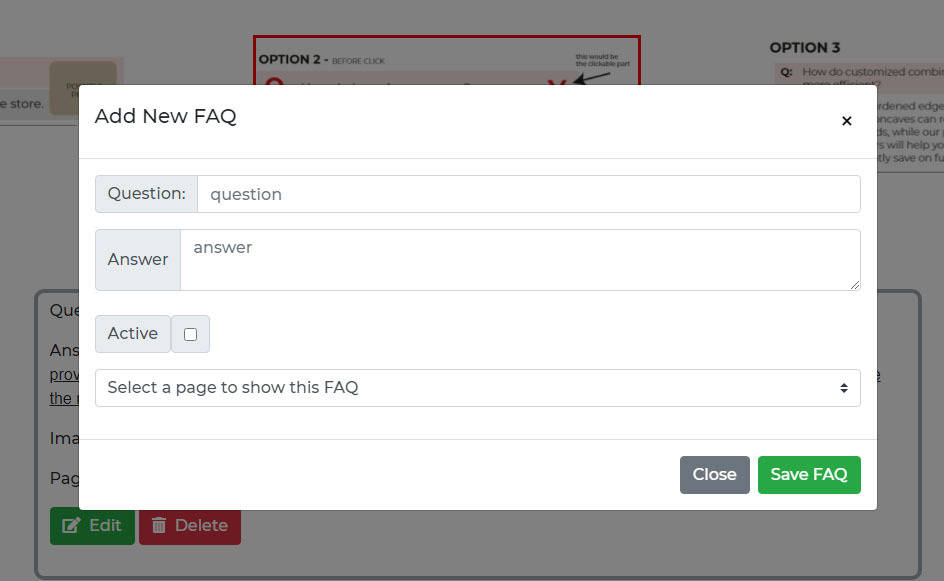 To edit an existing FAQ: click on the green 'edit' button for that entry, make your change and hit the grey 'close' button. You can also delete an entry with the red 'delete' button.

Pro Tips For a Great FAQ Page
One of the best features of an FAQ page is that you can increase the value of your website by making the questions as much about what people commonly ask you, as promoting aspects of your brand which you want to underline. By creating questions that discuss service options and quality issues, website owners can bring up all the points they wish to cover in a way that seems more helpful than hard sell. Practically every question should be subtle variations on "Why should I buy this from you?"
By using questions such as:
"Are your prices competitive?"
"Do you offer after sales service?"
"What material do you make your products from?"
"Do your products come with a guarantee?"
You can provide answers which not only speak to the over-arching "why buy" question, but also allows for an opportunity to proactively set aside your customers' fears while increasing your search engine rankings.