Testimonials
Most companies would love to get rave reviews from their customers. With this feature, you can add in text reviews that you have received.
To access this area, from the dashboard, choose this button.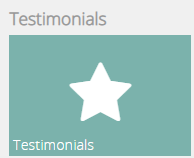 You'll see this screen and can click on the 

 button at the top right, for each testimonial you want to add.

You can enter a 'title', such as the best part of the review. EI: 'Such a great store!' Then, in the large box, type in the review.
The next 5 boxes are optional but the 'name' field is probably the one you should enter. For the 'stars' box, you can enter the star rating, if you have that information. If you leave it blank, no stars will show above your testimonial.
When you have all the reviews in that you want, hit 'save' at the top and you're done! Each will be visible for a few seconds until the next one takes its place.
This is an example of how it could look.