8. Mac OS X | Apple Mail Outgoing SMTP Server
1. Open Apple Mail using the icon on your dock.

2. Select Mail:Preferences from Apple Mail's menu.

3. Select Accounts tab at the top of the preferences window.

4. Select the mail account you need to modify from the Accounts list on the left side of the window.

5. At the bottom right side of the window, select Edit Server List from the Outgoing Mail Server (SMTP) dropdown.



6. Select the SMTP Server you would like to modify from the dropdown list. I wanted to fix my inmca SMTP server settings so I selected mail.inmca.com

7. Under the Account Information tab set the Server Name to mail.inmca.com.




8. Select the Advanced Tab.

 
9. Set your port to 465 with Use Secure Sockets Layer (SSL) selected (preferred)
or use port 2525 or 587 with Use Secure Sockets Layer (SSL) not selected.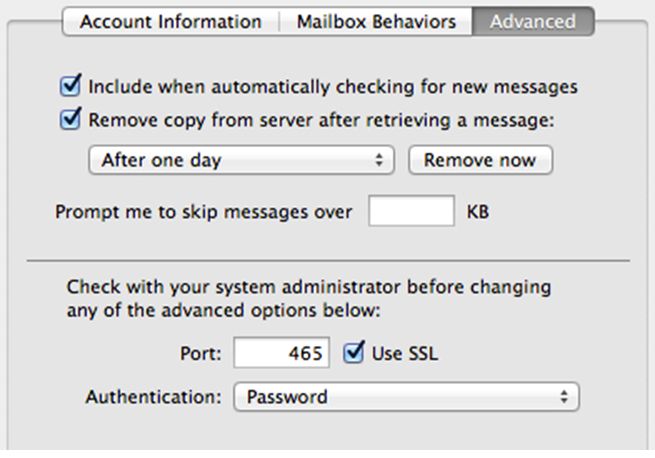 10. Select Password from the Authentication method dropdown.


11. Enter your username and password. Your username is your full e-mail address.

12. Click OK. If it asks you to save click Save.